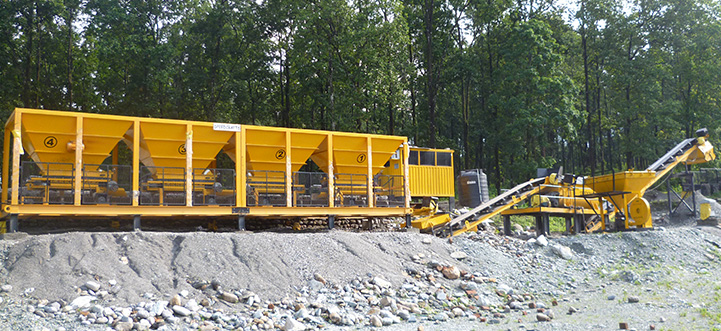 The wet mix macadam plant we design and manufacture is technologically very advanced. Apart from the latest wet mix macadam technology in its design and functional features, the machine is compact in size and is easy to install. With the easy to operate and other advance features, the machine becomes capable of delivering a high quality mix. Designed and developed as per the requirement of international market, the plantcan be operated stationary or can be moved to required locations since it is quite portable. Till date, we have a number of satisfied customers located all over the world.
Features
Modern Wet Mix Macadam Technology
Produces High Quality Mix
Portable or Stationary
High Production Rate
Easy to Operate
Highly Accurate Aggregate & Additives Feeder
Manufactured as per MORTH Specification
Four Bin Feeder
Single chassis construction, with a radial gate provided at each bin openable in any position to regulate aggregate flow, with individual endless belts below the gates to discharge material onto the gathering belt.
Vibrating Screen
A single-deck vibrating screen on the slinger conveyor removes oversize aggregates received from the 4-bin feeder.
Slinger Conveyor
An inclined conveyor with 600 mm wide belt mounted on idlers receives aggregate from the gathering conveyor and feeds it to the pug mill.
Pug Mill
A twin shaft pug mill mounted on antifriction bearing provides quick, continuous and homogeneous mix of aggregates and additives.
Water Tank
One water tank of 15 / 20 MT capacity each are provided, fabricated from steel plates with manhole, flow meter, pump etc.
Mineral Filler
Fabricated from steel plates, it feeds the required quantity of additives to the pug mill.
Control Cabin
A fully automatic control panel is provided to control quantity and quality of production, with operator sitting in air-conditioned comfort.
Optional
Variable Feeding Device can be provided for Belt Feeder.
Wet Mix Storage Silo.
Miscellaneous
All components used are of top quality, with ISI Certification wherever available.
All moving and electrical parts are provided with safety covers.
Ease of lubrication and dismantling has been built into the design for efficient maintenance and repair.
Fabricated parts are thoroughly cleaned and treated before painting.
Manufacturing is done with advanced, internationally recognised techniques.
Technical Specifications of our WMM Plant:
Model

WMM-60
WMM-100
WMM-160
Output (TPH)
60
100
160
Cold Feed
Gathering Conveyor (mm)
600
600
600
Belt Feeder Width (mm)
500
500
500
No. of Bins
4
4
4
Bin Capacity (MT)
8
10
12
Slinger Conveyor
Conveyor Width (mm)
600
600
600
Pugmill
Capacity (cu.m)
1.4
1.6
1.9
No of arms
20
26
32
Water Tank Capacity (MT)
15
15
20
Mineral Filler Capacity (MT)
2
3
5
Power Requirements
4 bin Feeder (HP)
4 X 1.5
4 X 1.5
4 X 2.0
Gathering Conveyor (HP)
5
5
7.5
Slinger Conveyor (HP)
5
5
7.5
Vibrating Screen (HP)
0.5
0.5
0.5
Pug Mill Drive (HP)
15
25
50
Hydraulic Power Pack (HP)
3
3
3
Water Pump (HP)
2
3
5
Blower (HP)
2
2
3
Company Profile
Products
Important Info
Send Enquiry