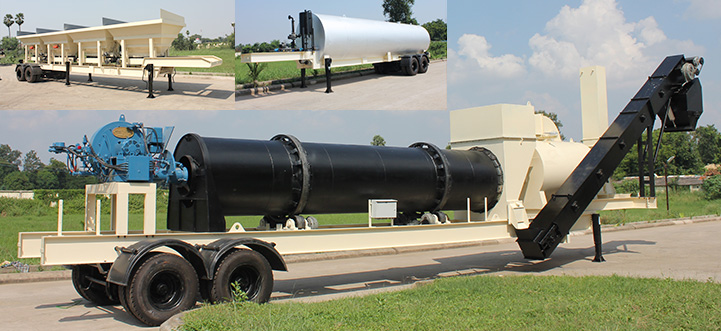 Mobile Asphalt Plant has been designed and developed by using latest international technology and use them for the construction of roads on small or medium scale. This system is basically designed and developed for easy assembling and disassembling for convenient moving from one place to another very often. Engineered to provide trouble free performance with enhanced fuel efficiency, the mobile equipment is suitable for mixing stone dust, sand and more with correct temperature requirement.
The Mobile Asphalt Plant manufactured by our company is technologically uncommon and isavailable at relatively low cost. The system has high functionality and provides operators with a highly efficient machine allowing for effective and totally satisfying road construction. Also known as Asphalt Hot Mixing Plant, it accommodates operator's total needs by being easily moved from location to location with relative ease, allowing for speedy assembly and operational use.
Dryer Drum
The dryer is accurately fabricated to ensure proper heating of aggregates with minimum heat loss. It is supported on steel rollers through steel tyreswith idlers and guide rollers and is provided with segmented driving sprocket.
Four Bin Feeder
It is of single chassis construction. At each bin, a radial gate is provided which can be opened in any position to regulate the aggregate flow. Individual endless belts fitted with variable speed motors discharges material onto the gathering conveyor as per the mix design.
Controls
A fully automatic control panel with feather touch controls is provided for controlling the quantity and quality of production with operator sitting in air conditioned comfort. All systems are completely synchronized with automatic/manual control of burners, load cell, mix temperature, cold feet, mineral, bitumen proportions, etc. Manual control is possible through over-ride system. Adequate safety measures are adopted to avoid overloading, short-circuit, etc.
Vibration Screen
A single deck vibratory screen is providedto remove over size aggregate received from the four bin feeder.
Multicyclone Exhaust
The dust collection system consists of enclosed multiple cyclones, exhaust fan and chimney.
Conveyors
A slinger conveyor is provided which receivesaggregate from the four bin feeder and feeds it to the dryer drum. The load out conveyor fitted with hydraulically operated hopper is provided at the discharge end of the dryer drum which feeds the hot mix material into tippers.
Dryer Burner
A fully automatic, high pressure, auto jet burneris mounted at one end of the drum.
Flight Design
The drying and mixing unit of the plant demands complex flight design. Specially designed flights lift and cascade the aggregate to reduce the final moisture content to 0.5% (by weight).
Filler Unit
Fabricated from steel plates, it feeds the required quantity of mineral to the dryer drum.
Asphalt (Bitumen) Tank
Tank of 15/20MT capacity is provided, fabricated from steel plates with 50 mm glass wool insulation, manhole, thermocouples, etc. Bitumen is pumped to the dryer drum through hot oil jacketed pipelines. Tanks are fitted with independent on-off type burners.
Fuel Tank
One tank of 2500/5000/1000 ltrs. Capacity is provided with each plant.
| | | | | | | |
| --- | --- | --- | --- | --- | --- | --- |
| Model | MDM-20 | MDM-45 | MDM-60 | MDM-90 | MDM-120 | MDM-150 |
| Capacity (TPH) | 15-20 | 30-45 | 45-60 | 60-90 | 90-120 | 120-150 |
Company Profile
Products
Important Info
Send Enquiry