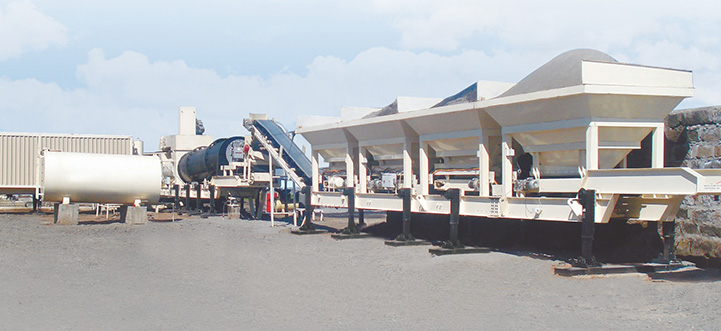 Our company feels proud to launch high quality and technologically advanced asphalt plants (As per American specs) in both versions - stationary & mobile versions. With the "Bernardi" collaboration and educationally qualified workforce, we have become a leading Manufacturer and Exporter of American Asphalt Plants. The systems are new generation construction equipment equipped with several advanced features to enhance the efficiency at work site. Made as per American Specs, the systems are well built to meet tough working conditions, constructed of heavy duty steel and high quality parts for trouble free long performance.
New Generation Drum Mix Asphalt Plants:
Five models with production capacities ranging from 30 to 120 tph.
Stationary and mobile plants.
Includes Cold feed bins, Drum mixer fitted with fully automatic and modulating burner, Drag conveyor with integral discharge hopper, Wet scrubber, Asphalt tank, Fuel tank, Control cabin, Computer automated controls.
Bag Filters and Storage Silos available as an option.
Strongly Built Plants
Plants are well built to meet tough working conditions, constructed of heavy duty steel and high quality parts.
Drum Mixer
Drum mixers are constructed of C-45 steel plate for longer life. Main frame is built with large structural beams for extra strength. Drum shell is coated with heat resistant paint for heat retention. Drum is provided with friction drive through four trunnions and individual gears. Proven flight design ensures maximum heat transfer and mixing.
Cold Feed Bins
Plants are provided with 3 or 4 cold feed bins. All bins are strongly built and mounted on heavy duty beams for extra strength. Bins have self-relieving bottom opening which eliminates bridging of the feeders. Each bin is provided with variable speed inverter drives through gear motors.
Wet Scrubber (Pollution Control System)
Plant is equipped with a standard wet scrubber type pollution control system. Wet scrubber system includes all duct work, automatically controlled air damper, water spray nozzles, water pump and exhaust fan.
Fully Modulating Burner
Drum Mixer is equipped with fully automatic, diesel fired burner. Burner assembly includes control motor, oil and air piping, pilot and main flame scanners, turbo blower and fuel pump.
Computer Automated Controls
Plant controls are mounted on a centralized panel inside the control house. PC/PLC based automation system allows the operator to automatically control the asphalt blending process. Controls include burner controls, temperature controls, damper controls, emergency plant shut down controls, sequencial start and stop controls. The display shows Production TPH, Aggregate TPH, Asphalt TPH & Mix Temperature. Computer controlled automation system is fully backed with a semi-automatic control system. Daily production datas can be printed out for records.
Drag Conveyor
Plant is equipped with a drag output conveyor. Drag conveyor is built with heavy steel sections, bottom and sides are provided with abrasion resistant wear liners. US make high quality drag chain is supplied, fitted with heat treated sprockets, gear box and motor.
FUEL TANK
One Tank of 5,000 / 10,000 Ltrs. capacity is provided with each plant.
Note:
All Mobile Plants are provided with Tandem Axle fitted on Cold Feed Bins, Drum Mixer & Asphalt Tank. Landing Gears, Steel Foundation Plates, Braking System etc. are also provided.
Higher Capacity Plants are available on specific enquiry.
Company Profile
Products
Important Info
Send Enquiry