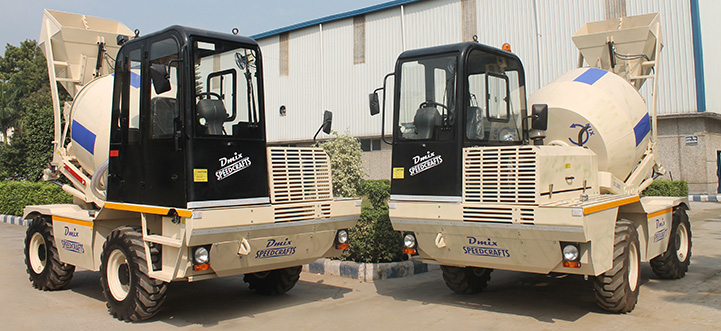 With technology from Italy, our Self Loading Concrete Mixers are manufactured using key components from Europe. Our Concrete batching Vehicles are 4x4 drive with off-road capability and deliver real concrete output of 1 cbm, 2.5 cbm and 4 cbm.
Our unique selling points:
Heavy duty machines with innovative technology
Strong & dynamic environment
Strong customer support
Wide network of branches / offices for after sales, services & spare parts
High Performance:
Compact Design for production of concrete inside the workplaces.
Technology and components from Italy, to guarantee maximum reliability and performance.
Simple to use.
4 x4, off road.
Most Suitable for contractors looking for mechanized concrete production at minimal cost.
Optimal Mix and high quality due to special drum configuration and its internal double screw together with Electronic batching system.
High maneuverability, ease of operation and excellent road holding enables the vehicle to be positioned accurately and close to dumping site even on rough terrain.
Cost Reduction & Productivity:
Increased productivity on construction sites due to on-site mixing.
Only one operator is needed for driving, loading, dosage and mixing operations.
On-site working minimises transportation and fuel costs thereby minimising the waste.
On-site working reduces the use of other expensive machinery, such as, concrete pumps, transit mixers, cranes, dump trucks, etc.
Safety:
Speedcrafts and Dmix have always been very sensitive to safety issues in the workplace.
Our self loading mixers are designed and manufactured taking into account improved ergonomics of the driving position and are equipped with modern safety devices.
Easy to maneuver, the Concrete Batching Vehicles can be used for a wide variety of projects:
Tunneling
Industrial structures
Urban Infrastructures
Hydro and Thermal Power
Transmission
Irrigation and Canal
Curb Forming
Housing & Buildings
Roads, Bridges & Flyovers
Paving
Piling
Railways
Transporting
Airport & Seaport
Trenching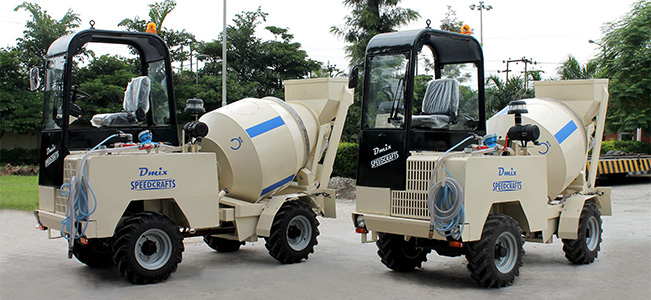 TECHNICAL SPECIFICATION
Engine
Mahindra & Mahindra Model 275 TU water cooled 4 stroke diesel engine 3 cylinder inline - 28.7 kw @ 2600 rpm /39 HP @ 2600 rpm.
Transmission
Hydrostatic 2 speeds, electro hydraulic control for slow and fast speed from 0 to 14 kmph (forward and reverse)
Traction
4 wheel drive
Steering
Hydraulic Power assisted operated through independent gear pump.
Differentials
Totally enclosed oil-bath disc brakes
Parking Brake
Mechanical, hand operated
Starting
Electric 12 V
Effective Yield
1.0 cbm
Drum Volume
1.5 cbm
Loading
Self-loading shovel capacity 150 litres
Discharge Concrete
Rapid discharge of the concrete by hydraulic drum tilting for fast and complete discharge even on inclines.
Typical Output
4 – 5 cbm/hr
Adjustment of Drum Rotation
By hydraulic control, Maximum Drum rotation: 0 - 22 rpm. Infinitely variable for mixing & discharge
Water Equipment
Self-priming pump 180 lt/min and flow meter batching
Water Tank
230 litres
Driver Seat
Reversible 180° with protection roof for complete visibility during driving. The operator can face loading side during weigh batching and discharge operations.
Tyres
10.0 / 75 - 15.3 - 10 PR, Pressure 4 bar
Rim Size
15"
Lights Equipment
Complete with head / tail lights, revolving light and emergency lights.
Ground Clearance
230 mm
Articulation Angle
25° on both side
Gradeability
30°
Fuel Tank
27 litres
Hydraulic Tank
70 litres
Net Vehicle Weight
2510 Kgs
Gross Vehicle Weight
5360 kgs
Accessories on Demand
High pressure washing system | Additional Chute | Electronic batching unit with printer | Fire Extinguisher 1 kg | First aid kit | Emergency triangle |Spare wheel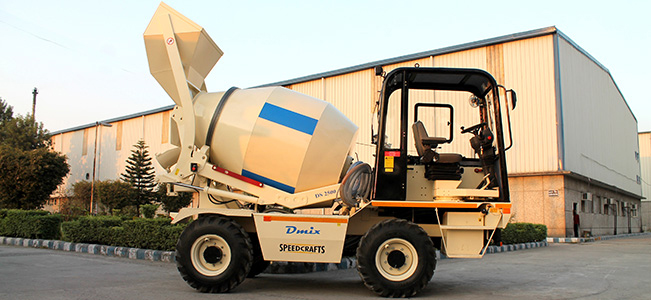 TECHNICAL SPECIFICATION
Engine
Mahindra & Mahindra model 4795 IA intercooler 4 stroke turbo diesel engine 4 cylinder inline - 58 kw @ 2300 rpm /79 HP @ 2300 rpm.
Transmission
Hydrostatic 4 Speeds Automotive, electro hydraulic control for slow & fast speed from 0 to 24 kmph (forward & reverse)
Traction
4 wheel drive
Steering
T- Way system. Four wheel steering for maneuvering in close spaces. Opposite wheels steering for side maneuvering.
Differentials
Totally enclosed oil-bath disc brakes
Parking Brake
Mechanical, hand operated
Starting
Electric 12 V
Effective Yield
2.5 cbm
Drum Volume
3.5 cbm
Loading
Self-loading shovel capacity 600 litres.
Discharge Concrete
Rapid discharge of the concrete by hydraulic drum tilting for fast and complete discharge even on inclines.
Typical Output
10 - 12 cbm/hr
Adjustment of Drum Rotation
By hydraulic control, Maximum Drum rotation: 0 - 22 rpm. Infinitely variable for mixing & discharge
Water System
Self-priming pump 220 lt/min and flow meter batching
Water Tanks
500 litres.
Driver Seat
Reversible 180° with protection cabin & lockable door. The operator can face loading side during weigh batching and discharge operations
Tyres
12.5 / 80 - 18 - 16 PR, Pressure 5 bar
Rim Size
18"
Lights Equipment
Complete with head / tail lights, revolving light and emergency lights.
Ground Clearance
330 mm
Gradeability
30°
Fuel Tank
100 litres
Hydraulic Tank
150 litres
Net Vehicle Weight
5350 kgs
Gross Vehicle Weight
11000 kgs
Accessories on Demand
High pressure washing system | Additional Chute | Electronic batching unit with printer | Slewing Drum Arrangement | Fire Extinguisher 1 kg | First aid kit | Emergency triangle | Spare wheel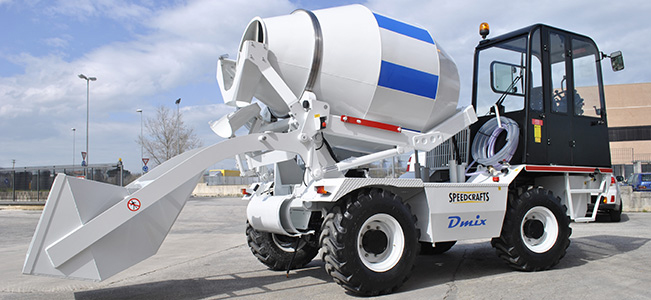 TECHNICAL SPECIFICATION
Engine
Kirloskar Engine Model 4R1040TA4 Intercooler 4 Stroke turbo diesel engine 4 Cylinder inline - 80.9 kw @ 2500 rpm / 110 HP @ 2500 rpm
Transmission
Hydrostatic 4 Speeds Automotive, electro hydraulic control for slow and fast speed from 0 to 27 kmph (forward and reverse)
Traction
4 wheel drive
Steering
T- Way system. Four wheel steering for maneuvering in close spaces. Opposite wheels steering for side maneuvering.
Differentials
Totally enclosed oil-bath disc brakes
Parking Brake
Negative Brake
Starting
Electric 12 V
Concrete Output
4.0 cbm
Drum Volume
5.05 cbm
Loading
Self-loading shovel capacity 610 litres.
Discharge Concrete
Rapid discharge of the concrete by hydraulic drum tilting for fast & complete discharge even on inclines.
Typical Output
14 – 16 cbm/hr
Adjustment of Drum Rotation
By hydraulic control, Maximum Drum rotation: 0 - 22 rpm. Infinitely variable for mixing & discharge
Water System
Self-priming pump 220 lt/min and flow meter batching
Water Tank
720 litres.
Driver Seat
Reversible 180° with protection cabin & lockable door. The operator can face loading side during weigh batching and discharge operations.
Tyres
16.0 / 70 - 20 - 14 PR, Pressure 5 bar
Rim Size
20"
Lights Equipment
Complete with head / tail lights, revolving light and emergency lights.
Ground Clearance
355 mm
Gradeability
32°
Fuel Tank
100 litres
Hydraulic Tank
150 litres
Net Vehicle Weight
7150 kgs
Gross Vehicle Weight
16800 kgs
Accessories on Demand
High pressure washing system | Additional Chute | Electronic batching unit with printer | Slewing Drum Arrangement | Fire Extinguisher 1 kg | First aid kit | Emergency triangle | Spare wheel
Company Profile
Products
Important Info
Send Enquiry